Other Helpful Products Used
Almond Milk WITHOUT CARRAGEENAN!!
Why?
Almond Milk is made from almonds and is one of the most nutritious things you can have and it is:
lactose free

dairy free

cholesterol free

gluten free

100% vegetarian

low in fat

low in sodium

most importantly, an excellent source of antioxidants such as Vitamins A & E.

Carrageenan Free
The brand I use, Silk, is one of the few brands that
doesn't add CARRAGEENAN*

in its Almond Milk. And it tastes delicious too!
* Carrageenan has been found to induce Ulcerative Colitis in lab mice!
Please note: I tried Rice milk, but didn't like it, and as far as Soy milk, I didn't want to have it as it has been proven to be very unhealthy.
You can find Almond Milk at your local supermarket, or for ease of use,

you can find it here.
Product Description
Smooth and creamy with the rich taste of almonds, Silk Pure Almond Original almondmilk is deliciously easy to love. Perfect over cereal, in your coffee, straight up in a glass or in recipes.
50% more calcium than dairy milk

60 scrumptious calories per serving

Excellent source of antioxidant vitamin E

Absolutely no saturated fat or cholesterol

100% free of lactose dairy
Silk Pure Almond® Original Almond milk Nutrition Facts:
Serving Size 1 cup (240mL)
Amount per Serving Calories 60 Calories
from Fat 25 % Daily Value* Total Fat 2.5g 4% Saturated Fat 0g 0% Trans Fat 0g Polyunsaturated Fat 0.5g Monounsaturated Fat 1.5g
Cholesterol 0mg 0%
Sodium 150mg 6%
Potassium 60mg 2%
Total Carbohydrates 8g 3%
Dietary Fiber 1g 4%
Sugars 7g
Protein 1g
Vitamin A 10%
Vitamin C 0%
Calcium 45%
Iron 4%
Vitamin D 25%
Vitamin E 50%
Riboflavin 25%
Vitamin B12 50%
Magnesium 4%
Zinc 10%
Copper 2%
Manganese 4%
* Percent Daily Values are based on a 2,000-calorie diet. Your daily values may be higher or lower depending on your calorie needs
Testimonials
5.0 out of 5 stars Absolutely delicious!,
August 8, 2011
This review is from: Silk Pure Almond Original, 32-Ounce Aseptic Cartons (Pack of 6) (Grocery)
This is the best almond milk I've ever tasted!!! (vanilla flavor is even sweeter) and
it is the only almond milk I know that doesn't contain Carrageenan (which is not good for you)

I used to drink other Silk milks such as very vanilla soy milk…but switched to this when I got pregnant. I didn't want to feed my baby with carrageenan.I wish Silk company could find a way to not use carrageenan in any of their milks! But this one is my favorite!!!
5.0 out of 5 stars Love it!, March 13, 2013
This review is from: Silk Pure Almond Original, 32-Ounce Aseptic Cartons (Pack of 6) (Grocery)
I haven't purchased this almond milk from amazon yet, but I did buy it elsewhere and I love the taste. Was pleasantly surprised. I have tasted the vanilla and unsweetened before and found the vanilla too sweet for my liking and the unsweetened too bitter. But I love the original almond milk from silk. Not too sweet, not too bitter. Love it!
Plus, this brand does not contain the ingredient that you should avoid in almond milk, Carrageenan

. Which is another plus! Highly recommend it.
You can find Almond Milk at your local supermarket, or for ease of use, you can find it here.
 

Other Helpful Products Used
Halvah
What is Halvah?
Halvah is a Turkish confection. It is one of the world's oldest candies.The earliest references date as far back as the year 3000 B.C. The word halvah means literally 'sweetmeat'. Halvah, is made from sesame seeds which are ground into a smooth creamy butter, making them more easily digested and utilized, now called Tahini, and adding some sugar to it.
Why?
The Sesame seeds from which the Tahini are rich in important vitamins such as:
calcium
zinc
iron
phosphorous
niacin
lecithin
many B complex vitamins
vitamin E
minerals
protein – containing at least 17 amino acids, including several that are essential for human beings. Sesame Tahini contains notable levels of Leucine and Arginine, amino acids that must be obtained through diet.
Halvah contains three basic nutrients; protein and vegetable fat from Tahini and carbohydrates from sugar.
Most of the fat in tahini is monounsaturated rich in omega-9 fatty acids. Halvah provides protein and calories, making it an excellent choice as an energy source, which also provides protein.
You can buy Halvah at your local grocery store. It comes in a variety of flavors: Vanilla, Chocolate, Vanilla and Chocolate, Pistachio. It's a healthy treat!
For ease of use, you can find it here.
Almonds



Why?
Almonds provide a powerful package of nutrients – a good source of:
protein (6 grams per one ounce)
along with dietary fiber
phosphorus
calcium
potassium
magnesium
manganese
copper
zinc
iron
vitamin E. In fact, one ounce of almonds provides about 7.4 grams of alpha-tocopherol vitamin E, 50 percent of the RDA (recommended daily allowance). Almonds are the only good source of protein that is also an excellent source of vitamin E.
proteins: almonds are rich in Arginine and low in Lysine.
Research indicates that diets rich in Arginine, low in Lysine are thought to reduce the risk of coronary disease.
In addition, the monounsaturated fat in almonds has been associated with a reduction in total and LDL cholesterol while maintaining healthy levels of HDL cholesterol. Some research shows that just one ounce a day can have this potential effect.
In a neat little package, nature has bound up essential health promoting nutrients in an almond. From high quality and highly absorbable protein to vitamin E and essential minerals, just one handful, about an ounce, of almonds can be an important part of a healthy, nutrient-dense diet.
Besides being so healthy, they're portable; grab a handful and put it in a ziplock back and put it in your backpack or purse as a handy, nutritious snack.
I would recommend Raw Almonds, rather than processed ones – and you can find those at your local grocery market or health food store.
I get all my raw nuts from Braga Organic Family Farm because I can rely on the quality of their non-GMO products, how it's made, and frankly I like supporting a family owed farm. Their farm is also Peanut Free, and that's very important to those who have an allergy to peanuts and have to worry about cross-contamination.
Why? Because they live, farm, package, roast and ship from all their organic pistachio orchard. Their mission is to ship the highest quality organic food within 24 hours. Here is how they do it:
Onsite refrigeration ensures the freshest nuts
Dry Roast in small batches without oils
They source the best organic products that they don't grow ourselves
They only handle certified organic products

GMO & Peanut Free
Braga Organic Farms, non-GMO organic nuts at its best! You can purchase raw pistachios, cashews, and almonds from them.
For ease of use, you can find it here.
Cashews
Why?
Cashew nuts pack a mix of nutrients and minerals not found in many common foods,all of which are necessary to a healthy diet. It packs:
5 grams of protein per ounce
iron
magnesium
phosphorus
zinc
copper
manganese
Vitamin E
no cholesterol
source of dietary fiber
Although Cashew nuts have a relatively high fat content (12 grams per ounce, 2 grams saturated fat), but it is considered "good fat." This is due to the agreeable fat ratio in the nut, 1:2:1 for saturated, monounsaturated, and polyunsaturated, respectively, which scientists say is the ideal ratio for optimal health.
Cashew nuts also have a fatty acid profile that contributes to good health through phytosterols, tocopherols, and squalene, all of which lower the risk of heart disease, combined with the nut's zero percent cholesterol content. Even with the relatively high fat content, cashew nuts are considered to be a "low-fat" nut. Cashew nuts have a high energy density and high amount of dietary fiber, both which have been attributed to a beneficial effect on weight management, but only when eaten in moderation.
With no cholesterol, a rarity for such a tasty and pleasing treat, cashew nuts are a healthy fat food for heart patients. And because of their high levels of monounsaturated fatty acids, 75% of which is oleic acid, the same heart-healthy monounsaturated fat found in olive oil, they also help support healthy levels of low good (HDL) cholesterol.
Besides being so healthy, they're portable; grab a handful and put it in a ziplock back and put it in your backpack or purse as a handy, nutritious snack.
I would recommend Raw Cashews, rather than processed ones – and you can find those at your local grocery market or health food store.
For ease of use, you can find it here.
* Important Note: Many people are allergic to different kinds of nuts, so be careful. One of the most common allergies is to Peanuts.
 

Other Helpful Products Used
Wild-Caught Sardines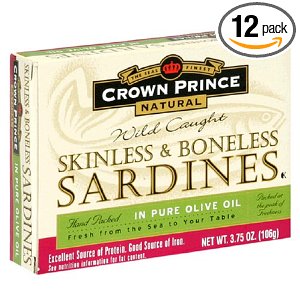 Why?
Sardines are a perfect food:
high in protein (26 grams)
contain 2 grams of Omega 3 Fatty Acids
with Iron and Calcium contained vitamins
it tastes great
it's portable
its nutritious
Please note: I tried about 4 different brands of canned Sardines, and the only ones I liked, whose flavor is just right, not too fishy and delivers a whopping 2 grams of Omega 3 Fatty Acids is made by. I found that the cheapest way to get them is to order them through Amazon, and I get them auto-shipped every month.
Where I get my Sardines
I get my Sardines auto shipped every month from here.
 Other Helpful Products Used
How To Find Out: Are You Food Sensitive?
Click here to find out if you're food sensitive
Stress Reduction
I know from personal experience that it's easier said than done. But stress is one of the worst culprits for those suffering with Ulcerative Colitis, IBS, IBD, and Crohn's Disease.
Suggestions:
Take up Meditation
Learn Tai Chi
Start Yoga
Start a Journal, write in it every day
Go for a long walk along a peaceful path
Start a hobby that relaxes you
Be mindful of yourself, make sure to make time for "me time"
Why is it so important to reduce the Stress and Anxiety in your life?
Improves your mental, and physical health – which improves your lifespan …
Creates real and constant happiness in your life, regardless of your past or present circumstances …
Enhances your creativity, intelligence, and overall mental functioning …
Upgrades your overall sense of well-being and inner peace …
Clears yourself of any emotional roadblocks to health …
Promotes a healthy sleeping pattern …
Creates your own success in the world, along with the personal satisfaction and sense of fulfillment that comes with being successful …
If you're still having problem with handling Stress and Anxiety, try PureCalm and meditation, special Candles, Deepok Chopra's WildDivine program, those are tools I use to handle my stress very effectively:
Works quickly to facilitate a calmed mood and soothed nerves
Promotes a calmed mood in minutes
Soothes nervous tension
Balances emotions during times of pressure
Soothes the symptoms of stress
Improves overall feelings of well-being
Supports complete nervous system health
Fast-acting formula in a concentrated tincture
What is PureCalm?
PureCalm is a 100% safe, non-addictive herbal remedy that has been specially formulated by a Clinical Psychologist for adults and children.
PureCalm can be used to safely maintain harmony, health and systemic balance in the brain and nervous system, without harmful side effects. This remedy contains a selection of herbs known for their supportive role in maintaining healthy nervous system function. Due to the concentrated tincture formula, PureCalm Drops work quickly to maintain balance and harmony in the nervous system – exactly when you need it!
The formula remains true to the whole spectrum method of herbal extraction, ensuring the bio-availability and balance of all the active ingredients contained in the remedy. This method of manufacture also significantly reduces the likelihood of side effects and maintains all active ingredients in perfect balance – exactly as nature intended!
Settle rough seas and welcome calm waters …
A fast-paced modern lifestyle can be difficult for both adults and children. Trying activities such as work deadlines, job interviews, school competitions and public interactions don't make it any easier either.
It's not uncommon to find oneself a little overwhelmed at the thought of a particular upcoming event or situation. Sometimes demands may be so great that it is difficult to slow down and take a deep breath, causing us to worry about everything.
What else can you do?
A lot can be done to support a healthy ability to relax and slow down. One way of doing this is to keep your mind producing its own natural feel good chemicals by eating lots of fresh fruit and vegetables and whole grain foods, getting plenty of fresh air and sunshine and exercising regularly.
Practicing relaxation techniques, meditation or even taking time for a regular walk on the beach can all help to reduce stress levels and facilitate a feeling of calm – helping us to wind down and relax.
Natural remedies can also help to support the nervous system and to keep nerves settled and soothed – to enable us to cope more easily with the everyday stresses of our modern existence. In fact, natural remedies have been used in traditional medicine for thousands of years to support the healthy functioning of the brain and nervous system.
In more recent times, research has confirmed this traditional wisdom. There are now many published clinical studies demonstrating the ability of a range of herbs to support the normal functioning of the brain and nervous system and maintain a healthy equilibrium – which will assist with staying calm under pressure. (Akhondzadeh S, Naghavi HR, Vazirian M, Shayeganpour A, Rashidi H, Khani M. "Passion flower in the treatment of generalized anxiety: a pilot double-blind randomized controlled trial with oxazepam." J Clin Pharm There. 2001;26(5):369-373.)
What are the Ingredients?
PureCalm is a 100% herbal formula and contains the following ingredients in therapeutic dosage: Lavender, Lemon balm, Passion flower.
Native Remedies' products are created using our Full Spectrum Approach™ (FSA), a set of standards and processes that combines the best quality, laboratory-tested, raw ingredients, good manufacturing practices and a Full Spectrum manufacturing method to guarantee you products of the highest quality, safety and effectiveness.
This product contains no animal products, gluten, artificial colors, flavors or preservatives, is suitable for lacto-vegetarians,and is not tested on animals, and backed by a One Year Unconditional Money Back Guarantee.
Lemon balm (Melissa officinalis) has been studied for its beneficial effect on the nervous system (Kennedy DO, Scholey AB, Tildesley NT, Perry EK, Wesnes KA. Attenuation of laboratory-induced stress in humans after acute administration of Melissa officinalis (Lemon Balm). Psychosom Med. 2004 Jul-Aug;66(4):607-13.)
Lavender (Lavandula augustifolia) is another well-known herb which has made its home in countries all over the world. Lavender contains the active ingredients tannins, coumarins, flavonoids, triterpenoids and volatile oil. It is best known for its soothing properties and as a tonic to support the nervous system. (Lewith GT, Godfrey AD, Prescott P, et al. "A single-blinded, randomized pilot study evaluating the aroma of lavandula augustifolia as a treatment for mild insomnia." J Altern Complement Med. 2005; 11:631-637).
Passion flower (Passiflora incarnata) is regarded very highly by traditional herbalists for its soothing properties as a general nerve tonic. In modern herbalism, Passiflora incarnata is known as a natural aid for the nerves. This has been supported by clinical trials. (Akhondzadeh S, Naghavi HR, Vazirian M, Shayeganpour A, Rashidi H, Khani M. "Passion flower in the treatment of generalized anxiety: a pilot double-blind randomized controlled trial with oxazepam." J Clin Pharm There. 2001;26(5):369-373.)
How do I use PureCalm?
Dilute drops in a small amount of water or juice, and sip slowly. Alternatively, hold bottle upside down and drop directly into the mouth.
Adults & Children 10+: Take 10-20 drops 3 times daily or use as needed for immediate relief.
Children 6-9: Take 1 drop per year of age 3 times daily.
Caution: Safety during pregnancy has not yet been established. However, if you are pregnant or nursing, try Triple Complex Calm Tonic to safely and effectively relieve panic, stress, worry and nervous tension.
How long until I see results?
PureCalm contains three powerful all natural proven herbs in concentrated medicinal extract as a tincture formula that facilitates rapid absorption into the blood stream.
This means that the healthy functioning of the nervous system is instantly supported, and you will get optimum results with regular use.
While conventional medicine works by often treating just the symptoms, natural medicine strives to create holistic balance in the body to support systemic health, relieve ailments, and help prevent future disease. Unlike pharmaceutical drugs, the natural ingredients in our remedies support overall health and functioning (rather than just suppressing symptoms).
People respond to natural medicine in different ways, some of folks experience immediate results while many others have reported optimal benefits taking effect within 3-6 weeks. To ensure you receive optimum results it is important to take natural remedies as directed and remain consistent. You may also find that a smaller maintenance dose is beneficial for ongoing support, many customers report taking a regular maintenance dose as part of a preventative program for continued health and well-being.
How long will a bottle last?
One bottle of PureCalm will last approximately 30 days (depending on frequency of use).
Testimonials
"I came across your internet site when I desperately was searching for answers why my 12 year old son was having anxiety …He was on [medication] but after about 1 year the [issues] came back and the doctor did not answer my questions. PureCalm works within 10 minutes. The first time I gave it to my son I was blown away how quickly it worked. I tried it out on myself when I had a really bad day, because I wanted to know how Pure Calm works. It helped me, too, within a few minutes just by blocking those disruptive thoughts that made my day so miserable. That was 4 years ago. PureCalm also helped me to taper my son off the [medication]. It has its place in my medicine cabinet and always will. PureCalm is an amazing product." – Regina W., TX, USA
"I've NEVER written a testimonial about any product before but I know there are people like me who are currently suffering… I've been using PureCalm for about three weeks and IT WORKS! I was on mind numbing [medications] for 5 years… I stopped taking them and I was about to start them again because the [issue] was getting worse. I can't believe how well this stuff works. I've been using it twice per day in the early morning and afternoon along with my usual dose of fish oil. I'm able to carry on a conversation without going blank and I no longer have the need react to situations… AMAZING!!!!!!!!!!!" – Arilia, USA
"This stuff really works. I feel so much better taking it, when I don't everything is horrible. So I definitely take this everyday, but I only take PureCalm once, and the MindSoothe once, and it works great. I recommended it to my boyfriend and he is so much easier to get along with." – Lily M., AZ, USA
"I started using PureCalm close to 2 years and was waking up each day to anxiousness due to menopausal symptoms. I had wanted to go through this time without prescription or hormone replacements. So as I began to research. I came across Native Remedies and decided to try PureCalm for starters and I can tell you the results were almost immediate. The anxiety I felt was gone and I then added MindSoothe to the mixture as well. The combination was great and I felt like a new person. I had managed to work through the menopausal period with almost no symptoms. Not only have I recommended PureCalm to 2 other friends and both had the same results. But the real testimony I am writing about is my husband… His blood pressure would go high every time he was in a doctor's office. It always caused a lot of stress because he would have to go through so much aggravation to be able to get permission to play sports etc. Well this continued through his adult years as well and every time with work physicals he would have to go through numerous visits and re-testing of his blood pressure before they would admit that he did not have true high blood pressure but [anxiety at the clinics. Each year this would cause him stress because when time for company physical he would yet again go through this same ordeal. Well, 2 years ago his doctor put him on … medication, against his argument, because she felt he could have blood pressure [issues] because of the stress of having it read at her office, but then what's to say that job or life stress was not doing that to him as well. Now that he was in his early 50's, she felt it was too much of a risk not to treat it, even though he was taking his [readings] regularly at home and the workplace and it was never high. He was not happy about it but agreed to it, but even over the 2 years when he went for his blood work his pressure would be high even if he took 2 pills before he went but the minute he was out of there it was back down. So, for the last 2 months my husband experimented and took PureCalm also 3x a day and for a week before his yearly appointed he did not take his blood pressure medicine. When he went in just yesterday for the very first time in almost 30 years his blood pressure was the best reading they had ever gotten for him in the doctors office!! The nurse let out a big wow!! Mark confessed that he had not taken his blood pressure medicine for a week(not that we would ever advise any of doing that with out their doctors approval). They were shocked and amazed and when his doctor came in she was equally surprised and pleased as well to the point that she is actually finally agreeing and taking him off of his prescription and having him come back in 2 weeks to see if it remains the same! By the time we left the office we had given both the doctor and the nurse the Native Remedies site! I am so grateful for coming across this site!" – Kathy, NY, USA
 

Other Helpful Products Used
Where do I buy my PureCalm from?
You can simply click on the banner below and it will take you to the same place I buy my PureCalm from.

 Other Helpful Products Used
And to Help with Your Meditation, Candles:
Soy, All Natural Candles in Delicious Scents, which do NOT off-gas like traditional candles, and which do NOT contain formaldehyde ( like traditional candles).
These are the ONLY candles I will use!
Since Stress is a Trigger, Learn How to Control the Stress
For some of us taking up Meditation or Tai Chi might be enough.
For others, like me, we need a more serious tool to ensure Control of the Stress, and that's where Deepak Chopra's WildDivine program is different because it uses Biofeedback.
Click on the images for more info:
Wild Divine: Making ancient wisdom accessible via modern technology – since 2003
Wild Divine is a mind/body training program which uses a combination of Biofeedback hardware along with highly specialized gaming software to assist in mindfulness and meditation training.  For over 13 years and with tens of thousands of highly satisfied clients in over fifty different countries, Wild Divine is a definitive leader in meditation, mindfulness and mind+body training programs.
What the experts are saying about Wild Divine
"In my opinion, the best program for working at home or office on relaxation and self-regulation skills (so-called peripheral feedback, as opposed to brainwave feedback) is the Relaxing Rhythms program available from WildDivine.com."
"One of the most important tools you can incorporate into your life, to affect not only the longevity of your life, but the quality of your life, is a slower, deeper, breathing practice. The exercises in Wild Divine do just that."
"Wild Divine combines technology with the Wisdom Traditions. I'm inviting you to join us on a special Journey… Your Iom will light the path and guide you, towards the secrets of the ancient wisdom which you carry within yourself…."
Other Helpful Products Used
What can you do when your Anus is inflamed and feels like it's on fire?
There are few things that are worse than
having your anus feeling like it's on fire
– terrible burning – from being raw 
(which could be the result of using
the wrong commercial toilet paper, or
just having a bout of diarrhea). This
could also be associated with endless

uncomfortable itching.
And finally if it recurs enough, you
could be suffering from anal  fissures.
A few weeks ago, I received a
call from my Aunt, who was going
through an unusually bad bout of
painful Anal Fissure. She was
in terrible pain, and didn't know
what to do.
Then I remembered I had a new product I was going to
be using as a "trial", which took care of this exact problem!
 "Would you like to try it?" I asked her.
After the first application, she
felt alot better. No more fire!
And for the next few weeks,
she followed directions and
continued applying it… and
sure enough the stubborn
fissure was healing well.
She called me ecstatic, that
I had given her a product that
worked like no other!
And she finally had her life back!
My God, this is a wonderful
and amazingly effective
product!
Since then, I have suggested this same
product to a few clients suffering from
anal itching and burning, and they've been
thrilled with its results!
What can you do when your Anus
is inflamed and feels like it's on fire?
At checkout, make sure you add
Promo Code: Cure4UC,
to get your $5.00 off coupon!
"Over the last few years, the Pranicure Treatment has proven to be the most successful treatment for chronic anal itching, pruritus ani and anal fissures ever created.  And it's not even close.  Over 98% of sufferers get relief and resume a normal life.  Most other therapies/ointments are lucky to hit 10%.  People who have suffered an unimaginable 10, 20 and even 40+ years have finally found success.
Unfortunately, as many of us with IBD, UC, and Crohn's have had a flare-up besides struggling with all the other symptoms, it's quite painful to have to
endure an inflamed Anus that feels like 

it's on fire

.
It gets inflamed as part of the disease process, and because of the overall inflammation in your body due to
your UC, Crohns, and IBD, which can create terrible  burning, itching, and "rawness" of the Anus.
which are almost impossible to heal.
"We don't consider chronic anal itching, agonizing anal fissures, and Pruritus Ani to be a minor inconvenience. No one understands what the severe sufferer is going through unless they've lived it. And we've lived it.
We feel for you and literally know your pain. We used to suffer just like you. If you've been to the doctor and everything they have done and prescribed for you hasn't worked… then you are just like us. Wake up at night scratching and unable to sleep? Been there. Jumping around on your chair at work because of the severe anal itch or pain? Done that. Bleeding through your trousers from open wounds and fissures? Just a normal day. Been so frustrated, filled with anxiety and sleep deprivation that you need anti-depressants to be able to deal with it?  We've

experienced all of this as well.
"We are The Pranicure Group, and all of us were multi-year severe sufferers who were unable to be helped by doctors. We have been researching and looking for a cure since 2010. We've literally tried hundreds of different remedies (as well as a multitude of different combinations of those remedies). We've spent years trying diets, abstaining from foods, and experimenting with homeopathic herbs and ointments. We've tried just about everything you can imagine: supplements, probiotics, prescription creams, online and over the

counter ointments, water sprayers, hemorrhoid surgeries, methylene blue injections, Botox injections… you name it, we've most likely tried it.
We honestly believe that after going through all of this trial and error, we know more about how to bring relief to those suffering from severe Pruritus Ani, chronic anal itching and painful anal fissures than almost anyone on the planet.
Severe Pruritus Ani is usually accompanied by chronic, intense anal itching as well as painful anal fissures. You may or may not have all three, but in order to effectively bring relief to the severe Pruritus Ani sufferer, we had to come up with a single, effective treatment for all of these tough-to-treat afflictions. So please note that when we say "Pruritus Ani" in further reading, we really mean the combination of Pruritus Ani, anal itching and anal fissures.
I've found ONLY 1 effective cream to be
and amazingly effective product!
At checkout, make sure you add
Promo Code: Cure4UC,
to get your $5.00 off coupon!
THE BEST SOLUTION FOR PRURITUS ANI RELIEF
"Typically, sufferers are given prescription ointments that work for a week or two and then when they fail, doctors have nothing left in their bag of healing and hand out a pamphlet with a few dozen or so things for their patients to try. If you're like us, we tried every suggestion on that pamphlet and nothing worked. We thought there just had to be a single, effective treatment that all of us could follow… and we were determined to find one. It took years (from 2010 thru 2013) but we finally found success in bringing relief to ourselves, as well as to several thousand chronic sufferers around the world.
You can save yourself years of frustration and follow our advice, or go at it alone and repeat everything we've already done. We've helped bring relief to the worst of the worst… people who have suffered an unimaginable 10, 20 and even 30+ years. Even if you've suffered for years… and have been to countless doctor's appointments… and think you've tried every remedy known to man… we absolutely still believe we can help you, because we were there too. We were at our wits' end. We know what you are going through… and we beat it.
Read what hundreds of real customers have to say about how Pranicure changed their lives!
WHAT IS PRURITUS ANI?
"Pruritus Ani is a medical term for "we don't know what is causing the problems in and around your anus".
It's a diagnosis catch-all for what may be open sores, rashy, irritated-looking skin, chronic anal itching, anal pain, and anal fissures. If the doctor is unable to help, what is a person to do? You scour the world for information, and hopefully find something that works and gives you a normal life back. That's what we did, The Pranicure Group, and that's why you are here today: because the doctor didn't have an answer for you.
NOTE: If you haven't been to the doctor, then you NEED to go see one. We are not anti-doctor: quite the contrary. They have answers and cures for many anal and skin conditions. You need to see your doctor until he/she tells you that they don't know what is causing your anal problem, and they have ruled out anything serious. However, once they hand you a pamphlet or give you the diagnosis, "Pruritus Ani" (or, "we have no idea what to do for you"), that's when you are ready to follow our advice.
"Dr. David B. Rosenfeld (in his online article, "Pruritus Ani (Anal Itching)") says: "Anal itching, or Pruritus Ani, has many causes, but the most common cause is unknown." But you still must see your doctor first, to rule out any known problems that they CAN fix.
"Let's assume the unfortunate idiopathic Pruritus Ani diagnosis and they have no idea what is causing it. Our research is leading us to believe the cause is internal. Something appears to be going wrong temporarily (or permanently) in the stomach/intestines, which produces something in your stool or rectum, which, when it comes into contact with your anal/perianal skin, causes itching. The ASCRS says (and we agree), "It is believed that an irritating secretion from the anal canal may cause the itching.. other potential causes of irritation include moisture from sweat, stool, and mucus." Then you scratch and scratch and damage the skin, sometimes creating a rash-like oozing skin problem, or sores, or anal tears called "fissures". As you probably know, damaged or burned skin produces moisture to heal itself. (A scab is dried wound moisture.) But down there, it never scabs over and keeps producing moisture which causes the itching to get even worse. You get stuck in a never ending itch/scratch cycle. Your bottom, whether you know it or not, has damaged skin and needs to heal. However, it won't heal if you keep scratching… BUT "not scratching" is ridiculous advice that cannot be followed, as it just itches too much, and you have to scratch! It's a horrible cycle to be in. It's a life changing cycle for severe sufferers, most of whom wake themselves up every night scratching. And then lack of sleep leads to a multitude of additional problems. In the worst cases, it ruins your life. That was us, The Pranicure Group. But we finally beat it…
"Our patent-pending Pranicure Treatment was able to achieve success in breaking the cycle. It allows us to have a normal life. We can sleep through the night and only have to apply an ointment once in a while to live life without itching or pain.
We agree with the ASCRS in their article "Pruritus Ani" that "The goal of therapy is to restore clean, dry, and intact skin." Our Pranicure Treatment accomplishes this goal.
Right out of the gate most ointments fail because the goal is clean, DRY, intact skin. There is nothing DRY about petrolatum, the base ingredient found in most ointments. Our research found that you never want to use anything that contains a lot of petrolatum/petroleum jelly/Vaseline. Unfortunately that ingredient is in almost every ointment! Through trial and error, we were unable to find a single product that worked long term on the serious sufferer and we realized that we had to invent the ointment that had all of the features we needed. Nothing had the combination of drying, soothing, yet difficult to remove moisture barrier and anti-itch qualities that is required. Pranicure (available for purchase on this website) with its patent pending formula, is the only ointment we tested that worked for all of us in The Pranicure Group.
Because it was invented by severe Pruritus Ani sufferers, and has now successfully been used around the globe by over 6000 people since 2013, there is absolutely no question that it works. Pranicure contains skin drying ingredients, antibacterial ingredients, skin soothing ingredients and anti-itch ingredients. It has the right amount of moisture (which is critical) and just may be the best skin barrier available to keep fecal matter and discharge off of the anal and perianal skin. And because of its soothing properties for skin, and ability to work in a moist environment, it helps heal anal fissures and keep them from re-occurring. In addition, Pranicure does not contain cortisone or any steroids that are not safe to be used long term. (Click on the "Pranicure Ingredients" tab at the top of the home page for a full list of ingredients.)
Pranicure was invented by us… serious multi-year sufferers. We know it works. It's proven to work. There is nothing better. We know chronic anal itching, severe Pruritus Ani and anal fissures like no one else. We've helped some of the most severe long term sufferers get relief… Read the Pranicure reviews here and search us on the web. Feel free to email us any questions at any time at help@Pruritusani.org.
This is a  wonderful inexpensive, and very effective product to have in your bag, in your desk, at your home, especially if you have IBD, UC, or Crohn's.
Testimonials
MIRACLE 
Posted by Lisa *Pranicure results will vary* on 3rd Apr 2017
"I remember distinctly the first time I felt that little tingly
itch after a bowel movement 7 years ago. Thought I
was developing a hemorrhoid as I stand on my feet
all day with work and was getting closer to age 50.
Well, it got worse and worse and I used EVERY
imaginable treatment from witch hazel and aloe, to
Recticare. I had stabbing needle-like pains at night
that would wake me up. I honestly thought I was doomed
for eternity. 3 days ago I got this "miracle in a jar".
There are no words to describe its effectiveness
but a miracle. I studied the ingredients as I'm into
more natural healing, and the zinc oxide, menthol
and thymol are well documented healing agents.
I cannot thank the makers of this product enough.
I would have paid $1000 for relief. The cost of this
product is MORE than reasonable. Don't hesitate."
"AMAZING
I have suffered chronically for around 2 years. In April I ordered Pranicure and haven't looked back…"
"ABSOLUTELY AWESOME! WENT FROM MISERABLE TO HAVING MY LIFE BACK!
Amazing product! Gave me my life back!! Highly recommend it!!
"CROHNS
For about four years I suffered from an intolerable itch and nothing would take it away. I'm not cured, but I went from it being the focus of my life to nearly forgetting I itch…"
"WORKS!
Works great! What a relief!"
AFTER 45 YEARS, RELIEF AT LAST! 
Posted by L.S. *Pranicure results will vary* on 27th Mar 2017
"Dear Pranicure,
I've used your product for about 6 weeks. I want to
report that I am completely healed and no longer suffer.
Your product is amazing! 45 years I've suffered with this.
What a relief. Thank you. I was 20 years old and in
university when this started. This was the last thing
I needed to deal with at that age. I went to doctors who
had no idea what to do and worse than that, they had
no apparent interest either. I could go on about the
torment I had to deal with but I would be telling you
what you already know. You people are a Godsend."
COMBINED WITH PATIENCE….A TRUE MIRACLE! 
Posted by n/a *Pranicure results will vary* on 19th Mar 2017
"I purchased first jar of Pranicure over a year ago
and second one about 3 months ago(have hardly
used any from that jar). I had tried hundreds of products,
some which made the condition much worse…..Pranicure
helped the burning and itching pain almost immediately
and by following the instructions religiously I found I
needed to use it less frequently.
I feel my skin is completely healed……what a wonderful relief,but I am keeping my Pranicure close by in case there is ever
another flare up. I had the condition for so long, it has been
about 1 1/2 years to this point, but how good to be free of
the discomfort! I highly recommend Pranicure, but
please be patient and follow the directions."
AMAZING PRODUCT AND GREAT COMPANY TO DO BUSINESS WITH! 
Posted by Dan P. *Pranicure results will vary* on 10th Mar 2017
"After having surgery a few years ago, I have had
recurring problems with anal fissures and itching.
I've seen several doctors including specialist and
tried numerous prescription treatments with little
to no success. I first tried Pranicure about a year ago
after reading customer reviews about it online and
thought it was worth trying. It was the best decision
I could have made because this stuff really works!Now whenever I have a flare up, I follow the directions
and within a week my condition is cleared up and I
have relief that lasts longer than any other treatment
I've tried. I almost never participate in reviews but this
product is truly exceptional and deserves its recognition.
If you are on the fence, my advice is to stop thinking.
You will not be disappointed. Thank you for a great product!"
PRANICURE IS A MAGIC PRODUCT FOR FISSURE FIGHTERS 
Posted by Fahim N. *Pranicure Results will vary* on 27th Feb 2017
"I am in tears while writing this review about this impressive product.
1 year ago I got chronic diarrhea that caused a fissure.
Every bowel movement was a nightmare for me.
The burning pain was so bad and it remained for 5-6 hours
after every bowel movement. It was not itching at first,
but after some months the itch also started, mostly at
night while sleeping. I was really frustrated with what
was happening to me. I was hopeless. Many times
I cried. I tried everything. Ointments, medications.Even two surgeons said that surgery is a must for heal up.
I was scared of surgery and wanted to avoid it if possible.
I searched a lot about fissure treatment on the internet,
and one day I found a review about Pranicure on a
medical forum. I ordered it online. I applied it two times
a day at first. Once after bowel movement in the
morning and then before sleeping. Can you believe it guys?
After many days I did not wake up in the night because of itching.
OMG! Impressive!! And now I am fissure free! I am healed.
Thank God. Thanks so much to the Pranicure team for
this Incredible invention. You gave me my life back guys.
Much appreciation to you. Regards and Love."
Fahim N. (from Pakistan)
At checkout, make sure you add
Promo Code: Cure4UC,
to get your $5.00 off coupon!
THE PRANICURE SATISFACTION GUARANTEE
"If you are not satisfied, you will get your money back with just an email. We want 100% success. We are not satisfied if even a single person is not getting relief from these awful afflictions. The Pranicure Group is sincerely here to help. We communicate with customers every day, walking them through the healing process. We absolutely believe we have the answer to bring relief to those suffering from even the worst cases of Pruritus Ani. We don't stop until you get relief. In addition, you can always ask us questions or for advice by using the contact us tab above or email us athelp@Pruritusani.org.
We sincerely want to help you with this awful affliction. We know what you are going through. We went through it and we'll help you get through it. Pranicure will give you your life back.
We wish you well!"
The Pranicure Group
DISCLAIMERS
"*Disclaimer: Results with Pranicure vary. While currently a vast majority of users get
relief from their symptoms using the Pranicure treatment, there is no way to guarantee specific results or guarantee that 100% of users will get satisfactory relief. Currently, there is no known drug, ointment or diet that can guarantee a cure for everyone with Pruritus Ani, anal itching or chronic anal fissures.
*Please note that under our terms/privacy/contact tab above, we promise you the very best customer service. You can always reach us to rectify any issues, make a comment or ask any questions. (All of our customer representatives were long term sufferers and know first-hand what you are going through.) We are sincerely here to help you beat this awful condition and will do everything we can to accomplish that. Email us anytime at help@Pruritusani.org. Please see theterms/privacy/contact page of our website for all contact info, refund policy, and privacy information.
At checkout, make sure you add
Promo Code: Cure4UC,
to get your $5.00 off coupon!
The skin surrounding the anus is particularly sensitive. Sometimes this can then make the simple task of sitting on a hard surface or the more difficult task of passing hardened stool extremely uncomfortable.
Circulatory health in the anal area, both internal and external, may be influenced by our sedentary lifestyles as well as an unhealthy diet, lack of dietary fiber and insufficient water on a daily basis. This can lead to straining and pressure on the anal area when passing a stool – thus placing stress on the blood vessels in the area.
The anal area is subject to multiple pressures in the normal course of living – sitting on hard surfaces while maintaining our body weight, as well as the stress of downward exertion when passing a bowel movement. Maintaining the health and integrity of this sensitive area is therefore very important.
The natural way
Following a healthy diet can go a long way to prevent constipation, encourage soft, regular stools and to support skin and blood vessel health in the most vulnerable places.
Exercising regularly and drinking plenty of water will help to hydrate the skin and promote circulation, while added fiber in your diet can help to keep you 'regular' and loosen stools for easy elimination through the anal passage.
Rather than treating problems in isolation, Naturopaths prefer to take a holistic look at the individual. Natural remedies have been used in traditional medicine for thousands of years to promote healthy circulation and encourage skin health. In more recent times, research has confirmed this traditional wisdom.
PRANICURE INGREDIENTS
"Pranicure is a steroid-free ointment intended for even the most severe pruritus ani symptoms. Each ingredient plays a unique role in combating this sensitive and extremely difficult to treat condition. No other product contains ALL of the ingredients in Pranicure. It is a patent pending, one of a kind, non-prescription formulation. All of the ingredients in Pranicure * are currently being used safely in many over-the-counter (OTC) products by people on a daily basis. Pranicure does NOT contain steroids, cortisone, or any other ingredient that can thin the skin or has been proven to be unsafe to use for long periods of time. Pranicure can be safely used on a long term daily basis (if needed).
After testing most every existing treatment for pruritus ani and anal fissures (both prescription and non-prescription) with ZERO long term success, the creators of Pranicure knew they had to come up with a different solution. It took years, but after
much trial and error, Pranicure ointment was born in 2013. It's brought relief to people who have suffered for 20, 30 and even 40+ years.
Read the Pranicure Treatment reviews here
The FDA (Federal Drug Administration) of the United States allows manufacturers to use OTC ingredients in certain concentrations and combinations without having to go through the many years of testing that new prescription drugs must go through to be proven safe and effective. The FDA has developed what they call "monographs" which are approved "recipes and active ingredients" for different types of afflictions. (Pranicure falls within the monograph for anal ointments.) As long as a manufacturer stays within the monograph guidelines, the final product is approved and can be sold to the public. Basically, once an ingredient (for example zinc oxide or menthol) has been proven safe, then future manufacturers can use these ingredients without "re-proving" safety or effectiveness. Only NEW drugs must be individually inspected and approved by the FDA. Click here to see the FDA website which explains the "OTC drug approval" through their monograph system.
ACTIVE INGREDIENTS:
Zinc oxide – Skin Protectant and defends against bacteria

Glycerin – Skin Protectant
Calamine – Astringent. Used to treat skin irritation and itching
Menthol – Analgesic and Anti-Itch compound
Aluminum zirconium – anti wetness

NON-ACTIVE INGREDIENTS:

Water, Alcohol, Dimethicone, Cyclopentasiloxane, Chlorothymol, sodium bicarbonate, propylene glycol, calcium chloride, phenol, fragrance

If you've been suffering with pruritus ani including anal itching and fissures, there is nothing better anywhere in the world than the Pranicure Treatment. Order here!

At checkout, make sure you add

Promo Code: Cure4UC,

to get your $5.00 off coupon!

 
A Healthy Secret: A  Squatty Potty!
Could Help for Your IBD, UC, Crohn's Be A Simple Squat Away?
The caveman, people in remote third world countries, and the Japanese all do it; what do they know that we don't?
It isn't new, although it might be new to you.
Squatting is a healthier and more natural position than sitting on a toilet for enabling bowel movements. It prevents straining, damage to pelvic floor muscles, and hemorrhoids too. It enables total evacuation; you'll never leave the toilet again feeling that you still need "to go".
Click here to find out more info 
Has your doctor ever told you that using a SquattyPotty might help your IBD, UC, Crohn's ?
Why?
IT'S ALL ABOUT PROPER ALIGNMENT
HERE'S HOW WE WORK:
Let's review the mechanics of going to the bathroom. People can control when they defecate, to some extent, by contracting or releasing the anal sphincter. But that muscle can't maintain continence on its own. The body also relies on a bend in the rectum (where feces is stored), and the anus (where feces comes out).
When we're standing or sitting the bend, called the anorectal angle, is kinked which puts upward pressure on the rectum and keeps the feces inside. The sitting posture actually keeps us in 'continence mode'. This makes elimination difficult and incomplete, creating the need to STRAIN. Some researchers have compared the anatomical predicament created by sitting on a toilet to trying to defecate through a kinked garden hose. It just doesn't work.
In the squatting posture, the puborectalis muscle relaxes allowing the bend to straighten out resulting in easier defecation. Squatting is the natural way to achieve easier and more complete elimination. Research shows that squatting relieves the kink effect. Also, the pressure of thigh muscles against the lower abdomen helps with exertion and elimination.
Assuming the squat position is the natural way to achieve easier and more complete elimination. Research has shown that in some people, the kink is completely gone while squatting.
"Because of the anorectal angle being in a kinked position while sitting you are forced to strain in order to move the bowels, which is the main cause of hemorrhoids. While squatting the angle straightens out allowing the fecal matter to eliminate quickly and easily without straining."
– Israel Journal of Medicine
"The ideal posture for defecation is the squatting position. In this way the capacity of the abdominal cavity is greatly diminished and intra-abdominal pressure increased thus encouraging expulsion."
– William S. Haubrich MD , Bockus Gastroenterology
| | |
| --- | --- |
| | There is so much benefit in such a simple change of habit! The modern day toilet is convenient, but has one major fault; it requires us to sit. While sitting to do our business may be considered "civilized", studies show the natural squat position improves our ability to eliminate. Better elimination may decrease many modern day ailments including bloating, straining, hemorrhoids and constipation. |
Dr. Mercola – For Best Toilet Health: Squat or Sit
December 03, 2012
"Is the Western toilet in part responsible for problems like hemorrhoids, constipation, IBD (Inflammatory Bowel Disease), appendicitis, and even heart attacks?
Sitting on the modern Thomas Crapper-style sit-down toilet is designed to place your knees at a 90-degree angle to your abdomen. However, the time-honored natural squat position places the knees much closer to your torso, and this position actually changes the spacial relationships of your intestinal organs and musculature, optimizing the forces involved in defecation.Sitting to evacuate your bowel requires you to apply additional force (straining), which has some unwanted biological effects, including a temporary disruption in cardiac flow.
Can the Toilet Be Blamed for Increasing Rates of Colon and Pelvic Disease?
Squatting is the way our ancestors performed their bodily functions until the middle of the 19th Century. Chair-like toilets were reserved for the royals and the disabled. But the "progress" of westernized societies may be partly to blame for higher rates of colon and pelvic disease, as described by a report in the Israel Journal of Medical Science:
"The prevalences of bowel diseases (hemorrhoids, appendicitis, polyps, ulcerative colitis, irritable bowel syndrome, diverticular disease, and colon cancer) are similar in South African whites and in populations of prosperous western countries. Among rural South African blacks with a traditional life style, these diseases are very uncommon or almost unknown."
As globalization continues to make its way across the world, squat toilets are being converted to sitters. For example, Thailand's Health Ministry just announced it will replace squat toilets with the sit-down varieties at all public facilities.3
This may be a bad thing for public health, as a wide range of health problems have been associated with the transition from squatting to sitting. In fact, health problems potentially stemming from the sitting position include the 15 outlined in the following table.
THE STRAIGHT POOP
Evidence suggests bowel and pelvic problems may be related to improper potty posture. Only with the traditional squat position is your body aligned in a way that promotes complete bowel emptying. As you can see from the diagram, squatting actually straightens and relaxes your rectum.
According to Jonathan Isbit of Nature's Platform:
"For safety, nature has deliberately created obstacles to evacuation that can only be removed by squatting. In any other position, the colon defaults to 'continence mode.' This is why the conventional sitting position deprives the colon of support from the thighs and leaves the rectum choked by the puborectalis muscle.These obstacles make elimination difficult and incomplete – like trying to drive a car without releasing the parking brake.
Chronically incomplete evacuation, combined with the constant extraction of water, causes wastes to adhere to the colon wall. The passageway becomes increasingly constricted and the cells start to suffocate. Prolonged exposure to toxins will often trigger malignant mutations."
He goes on to explain how the kink where your sigmoid joins your rectum (refer to the colon diagram above) serves an important function in continence. It "applies the brakes" to the flow of peristalsis, reducing the pressure on your puborectalis muscle. According to Isbit's article, squatting offers seven advantages:
HEMORRHOID PREVENTION
Two common problems are hemorrhoids and constipation. Unfortunately, many people needlessly suffer because they are too embarrassed to broach the topic with their healthcare providers. Fortunately, these all-too-common problems can be resolved with similar strategies because they share the same causative factors, including the typical Western diet, inadequate exercise, chronic dehydration, and stress. Surveys suggest that, in westernized countries, as much as half the population over age 40 may suffer from hemorrhoids.
Hemorrhoids are veins in the wall of your rectum and anus that have become twisted, swollen and inflamed. They can form either internally or externally, and the resulting lumps can cause pain and bleeding.
Hemorrhoids are most often created by an increase in pressure, usually from straining to have a bowel movement. Hemorrhoids are common in people with chronic digestive disturbances – especially constipation. They are also seen in the elderly, and during pregnancy. If you're pregnant, the additional pressure your growing baby places on your uterus can result in hemorrhoids. Childbirth can increase the problem, but fortunately, most hemorrhoids caused by pregnancy resolve after delivery.
There is research casting doubt on the theory that hemorrhoids are caused by insufficient dietary fiber, but instead by other factors such as the loss of the "ancestral diet," and the straining associated with defecating from a sitting position.
Dr. Berko Sikirov, an Israeli physician who studied the health effects of squatting for elimination, found that hemorrhoids were virtually eliminated when hemorrhoid sufferers switched their toileting position from sitting to squatting.5 Sikirov concluded hemorrhoids result from continual aggravation and injury from excessive straining by defecating in the sitting position. Straining is necessary to overcome the constriction in the rectum designed to maintain continence.
To prevent hemorrhoids, you should also stay hydrated with adequate water daily, seek to control your emotional stress, and get plenty of exercise. Make sure your diet includes plenty of probiotics, such as those present in traditionally fermented foods like sauerkraut and other fermented vegetables, which are important for maintaining optimal intestinal flora. For a complete discussion of hemorrhoid prevention and treatment, refer to my earlier article on this topic.
Occasionally a deficiency of bioflavonoids allow blood vessels to break easier and if this is the case a supplement called rutin is particularly helpful at correcting. If you bruise easily this is a strong suggestion that you would benefit from taking rutin.
NATURAL CONSTIPATION RELIEF STRATEGIES
Constipation and hemorrhoids are two sides of the same coin. Your risk for hemorrhoids increases greatly if you have recurring episodes of constipation. One of the biggest hindrances to your success may be not realizing you're constipated in the first place. Regular bowel movements are extremely important for your health because, without them, toxins accumulate and are recirculated in your bloodstream. If elimination is not regular and complete, the wastes will dry and become cemented to the walls of your colon.
Constipation has been shown to increase your risk of colon cancer and has been implicated in diverticulosis and appendicitis. The cumulative lifetime use of commercial laxatives has been associated with increased risk of colon cancer.
Conventional medicine typically defines constipation as fewer than two or three bowel movements a week. But you should really be having one bowel movement a day, and preferably two or three. So if you are having less than one bowel movement per day, you should take steps to increase them. Some of the common causes of constipation include laxative abuse, hypothyroidism, IBD, and ignoring the urge to go. If you consistently ignore the urge to have a bowel movement – for instance, to avoid using a public toilet – eventually you may stop feeling the urge.
Laxatives are NOT a good option as your body may become dependent on them. Laxatives may decrease your colon's ability to contract and can even eventually damage your large intestine's nerves, muscles, and other tissues. This applies to both pharmaceutical laxatives, as well as herbs like cascara. Fortunately, although constipation is very common, it is also usually temporary and relatively easy to resolve – without resorting to laxatives. Squatting is one of the best interventions, preventing constipation in four ways:
Gravity does most of the work. The weight of the torso presses against the thighs and naturally compresses the colon. Gentle pressure from the diaphragm supplements the force of gravity. The ileocecal valve, between the colon and the small intestine, is properly sealed, allowing the colon to be fully pressurized. The pressure creates a natural laxative effect. In the sitting position the IC valve is unsupported and tends to leak, making it difficult to generate the required pressure. Squatting relaxes the puborectalis muscle, which normally chokes the rectum to maintain continence. Squatting lifts the sigmoid colon to unlock the "kink" at the entrance to the rectum. This kink also helps prevent incontinence, by taking some of the pressure off the puborectalis muscle. Preventing and treating constipation is very similar to preventing and treating hemorrhoids. Pay attention to your diet, exercise, hydration and stress level. Consume probiotic-rich foods and possibly add a probiotic supplement.
Chia and organic psyllium are excellent sources of soluble and insoluble fiber, aloe vera and magnesium supplements can also be useful tools to speed up your bowel movements.
For a complete discussion of constipation prevention and treatment, refer to my earlier article on this topic.
ARE YOU READY TO ASSUME THE POSITION?
The scientific benefits of squatting have sparked efforts to design devices that help would-be squatters to return to a more natural pooping position. However, if you've been using a sit-down toilet your entire life and haven't squatted since childhood, squatting may present somewhat of a physical challenge – to say the least!
Various devices have appeared in the marketplace to assist with this problem, such as the Squatty Potty, developed by Robert Edwards, a 37 year-old contractor and designer in Utah who sought a way to help his mother relieve her problems with constipation and hemorrhoids. You may wish to check out some of these contraptions on the Internet. Squatting involves strength and flexibility that adults tend to lose over time, but children have naturally. These devices – special toilets and stools that get your body into a more "squatty" position – may help you get closer to the ideal.
Another advantage of squatting? Killer thighs. Nothing builds your thighs like a squat. Adding some squats at the gym will undoubtedly help you with your squats in the bathroom!"
Testimonials
Stricken By Hemorrhoids
"I have been absolutely stricken by Hemorrhoids for about the last 7 years. I immediately saw a doctor when the first thrombosis appeared, and he told me that he could operate, but that I would be laid up for weeks, and I wasn't terribly interested. I gingerly stood up, walked out, and it did 'get better' after a few weeks. Unfortunately it came back, disappeared, came back worse, didn't quite disappear, got worse again, and worse, regardless of fiber / ointments / suppositories / anything else. I had to stop riding my bike. I could not run. This started when I was 25 years old! I had been in great shape (and still am) but lost my mobility due to the incessant screaming from 'down below'.
Ok, Fast forward. This past spring break things got so bad that I literally just sat in a chair for a week. I dropped my math classes at the U cause I just could not think about math due to the pain. Finally I went to a colorectal surgeon again. She showed me the color prints of what she called 'successful' surgery and I panicked. There was no way that I would submit myself to any of the suggested operations.
Especially not the new stapling process. Just look into it if you want to feel really uncomfortable.
I went home. I searched the internet again and again for 'hemorrhoid cure' or similar. I had been doing this for years but never came across the information about squatting. This time I did.
I found a summary of the study performed by the Israeli doctor, where he suggested to 20 grade 3-4 H. sufferers to squat for a year (and to respond immediately to the urge, whenever possible) and coloscoped them again after the year had passed. 18 out of 20 were completely cured after a year. The two who were not cured had previously suffered at the hands of doctors — they had both had banding operations. Banding is, of course, listed as the least of all the procedures, in terms of 'down time'.
Hmm, I said. Hmm. At this point, having a bowel movement was such an ordeal for me that I was looking for anything, and there appeared to be absolutely no downside to trying a squat to to my business. I ordered a platform from naturesplatform immediately after my first experiment on my toilet seat.
First time I tried it I knew that there was something to this 2.5 months have passed. I go every day now. No problem, I feel the urge and I go. I have not sat to defecate once in this time frame. I can't imagine it anymore. Squatting works so well, and evacuation is so complete that there is no way I would ever go back.
No way. Never! Oh.. And the Hemorrhoids. They are curing quite nicely. I never even think about them anymore.
Whatever prolapse I had had is now reduced by 90%. I can easily tuck whatever I need to back where it needs to be and it will not protest. Contrasted with my experiences while sitting it is like I have received a new lease on life. I am quite grateful for the illumination and attempt, as sincerely as possible, to relate to others what they need to do to secure themselves a comfortable future.
I feel better than I have in 6 years. I can run and do whatever I want to do. I don't need to take fiber anymore, unless I want it for its benefits. I am certainly not constipated. I am back in touch with my anal canal nerves. Hopefully there has not been too much damage to my pelvic floor nerves.
One last note on surgery. I read this somewhere and it really stuck. Since surgeries always involve the removal of tissue, it is easy to see how 'it is impossible to heal that which is not there'.One final note. In having conversations with my mother on this topic, she reminded me how I had informed her that I wanted my diapers back when being potty trained. She gave them back and kept an eye on me.
She revealed that she finally got me 'trained' when she noticed me SQUATTING. Hehe. When she saw that she asked me if I had to go, I said yes, and the rest was history. At least it was until I hit 31 and re-remembered the right way to go." – Rolf the cured
To find out more information about the SquattyPotty, click on the image below:
 

Other Helpful Products Used
 Love To Eat Out, But Afraid To?
… We all know that Gluten is bad for those of us that suffer with IBD, UC, Crohn's, and IBS.
The Triumph Dining Team has obsessively researched what's gluten-free for us. Stop wondering. Get answers. And get on with your life.
Enjoy Eating Out, But Are Afraid To Because of Gluten?
For those of us who like to eat out (and eat in too), these are great resources:
Eating gluten-free in restaurants can be tough. Menus rarely list every ingredient in a dish. Food preparation happens behind closed doors. And cross-contamination is a constant risk.
Frankly, we wouldn't blame you for just giving up and staying home. (We've been there.)
Whether you're gluten free by choice or necessity, your options shouldn't be limited or boring. There are so many great gluten free restaurants and menu options out there, and we believe it's a shame when any of us feels we need to work extra-hard just to order the foods we love.
Since 2005, the Triumph Dining team has spent thousands of hours developing the most comprehensive gluten-free restaurant guide in North America, dining cards that help you order gluten free at restaurants where language barriers can make things even more difficult, and a popular gluten-free grocery guide to help you find the groceries you need — even if you're traveling and all that's available is a supermarket whose brands you don't know.
The Essential Gluten-Free Restaurant Guide
Over 6,500 delicious gluten-free restaurants
100 gluten-free lists from chains like P.F. Chang's, Panera, and Subway
Covers all 50 states in an easy-to-use state-by-state directory
The only restaurant database (print or online) where every listing is verified and updated each year
5th edition, includes over 460 pages!
Testimonials  
"Triumph Dining has done an amazing job of putting together a book that will help millions of gluten free people! I would recommend this book to everyone."- Dylan's Gluten Freedom Blog
"We love your gluten free guide. I feel like we can travel anywhere and find somewhere for my son to eat…Thanks for opening up a whole new world of traveling without always having to pack an ice chest." – Kelly Doyle, Twain Harte, CA
"I put together GF dining out events all over Chicago for CSA/GC. I owe a huge part of my success and inspiration to you — because of providing our community with great dining out resources. At all my events I ALWAYS bring your book with me to share with others AND they are thrilled to find out about it and how HELPFUL it is." – Bruce Zarlengo, Chicago, IL
"Do you have it yet? Why not? Go get it. This is a must have book." – Lea is Gluten Free Blog
"When we went on vaction to Southern California, it was very helpful. It will be useful to use for local restaurants as well. The book has a lot of information, one of the best purchases I have made since being diagnosed as a Celiac a year ago. I am more willing to eat out now that I have your book." – Deborah Anderson, Acampo, CA
"Thanks to the wonderful Triumph Dining folks. I can relax just a little — we know eating out is risky, and I won't ever let my guard down, but this book is a great help!" – Gluten Free in Georgia Blog
"This book is a great resource for business travelers and families who travel a lot so that they can save time and anxiety and focus on other things…No doubt I will be dogearing and annotating this book quite a bit when we are on the road." – Wheat-Free, Meat-Free Blog
And they have a Gluten Free Grocery Guide:
The Essential Gluten-Free Grocery Guide
Find over 44,000 brand-name and store-brand gluten-free products at grocery stores across the U.S.
Color-coded system makes meal planning and finding your favorite foods a snap
5th edition, 280 budget-friendly and time-saving pages
Testimonials
The reviews are in…
"My husband has Celiac so this is my bible when I make out my grocery list. It makes life much easier for both of us. Thank you for making this product available." – Pat Korner, Canton Center, CT
"It has been very helpful for me! I carry it in my purse or the car – always. It especially helped around Christmas time because I thought I would not be able to have any of the traditional family fudge that I make every year. But, I was very excited to see that some of the ingredients I needed for the recipe I could get right at our local grocery store and they were gluten free! I made the fudge and didn't get sick, which is a miracle. I also found out that a lot of things I thought I had to give up actually don't have gluten in them and I can have them again, which I've done without getting sick. Thank you for offering this." – Kelly Doyle, Twain Harte, CA
"I have been GF for over 30 years. I didn't see a need for the grocery guide since I have been doing this for so long. Then I saw that a new edition had been published and decided to get one. I was surprised at how many things are now GF that had been illegal before. I am often contacted by folks who are newly diagnosed, and I have a packet of information I send to them via e-mail. I recommend these Guides in those pages of information." – Beve Wenrich, Geigertown, PA
"I actually purchased [the guide] for my mother–who has found it much easier to shop for me. These are very good resources–especially for my family members who can never remember what I can & cannot have to eat. This was one of my best purchases since I was diagnosed." – Stacey Dougherty, Northampton, PA
"It's a good book. It's going to go in the car and stay there, so I always have it handy for those quick last-minute trips to the store."– Gluten-Free Steve Blog
Testimonials: What the fans are saying…
"Eating out while following a gluten-free lifestyle might be easier with The Essential Gluten-Free Restaurant Guide."– The Washington Post
"Customized to each cuisine, [Triumph's Dining Cards] list the common foods that are and aren't gluten-free and explain the challenges of cross-contamination. These gems allow you to put something in the chef's hand so you can eat better, worry-free."– Easy Eats Magazine
"This book will make you want to take a road trip around the US visiting all the great Gluten Free restaurants. The Essential Gluten Free Restaurant Guide will help you build confidence in yourself, about living gluten free and explaining your needs to other people. Triumph Dining has done an amazing job of putting together a book that will help millions of Gluten Free people! I would recommend this book to everyone!" – Dylan's Gluten Freedom Blog
"Before going to a restaurant…order the gluten free cards from Triumph Dining – they list different cuisines in 8 – 10 different languages…they are extremely helpful if you like to try different restaurants. It beats bringing your own list (which I used to do) because these ones are pocket size and laminated." – Gluten Free in Boston Blog
As seen in…
Complete Collection of Gluten Free Apps
We love our smart phones and we know you do, too. Now you can access the Triumph Dining dining cards — available in 10 languages! — and grocery guide on your Apple or Android device just by downloading the app.
To Get Your $10.Off Coupon, any variety and any size Urthbox, Use code: SUMMERSNACKS  (through June)